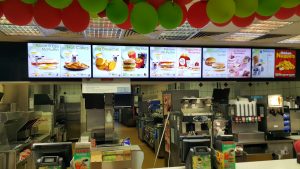 Displaying your menu on screens is now a must in the fast food market, especially when you want to be responsive and maintain your leading position. On your next visit to the restaurant in Nouméa, it will be difficult to miss this set of 6 Philips screens that displays in Full HD the various burgers and other Nuggets that seem to want to get out of the picture to land on your Tray!
The image quality of this DMB (Digital Menu Board) Philips is actually striking and was installed by the company VisualCom.
"VisualCom was chosen because it met all of our requirements for the proposed solution; In addition, it's McDonald's will to rely on local structures," explains David LAFLEUR, Director of McDonald's New Caledonia.
McDonald's New Caledonia's marketing team is now self-sufficient in updating content. "We can plan to display different menus based on days and schedules through an online app. It's very comfortable and we've gained a lot of responsiveness" (Céline SARAZIN Marketing Director McDonald's New Caledonia).
The restaurant in Nouméa was thefirst to be equipped with it and those of Koutio, Paita, and soon Mont-Dore will also guarantee, for all McDonalds customers of New Caledonia the same quality of welcome.
Learn more about Philips Digital Menus and Video Walls by contacting VisualCom: contact@visualcom.nc Tel. 27 22 84