The current situation regarding COVID-19 obliges us all to take precautionary measures and to practice "social distancing" (1.5 m) to reduce the risk of infection. For businesses, this poses some challenges. Certain services must remain available to meet customer needs. At the same time, the top priority is to protect your customers and staff from the spread of the virus, while ensuring that you can continue to provide the required services with more dynamic staff availability than usual.
In times like these, it is important that hospitals, government agencies and businesses adapt quickly to deal with this situation. How can you continue to provide service while minimizing risk to customers and staff? Here are some ways to help you get there.
Anglais Limit the number of people visiting your premises
Minimizing the crowd in the waiting room is the first step towards reducing the risk. This can be achieved by adopting one or all of the following approaches:
Skip to virtual queue
This allows customers to wait in other less crowded places, such as outside or in their car, reducing the number of people in your waiting room.
Switch to an appointment only policy
By making an appointment, customers can plan their arrival near their appointment time, which can significantly reduce their waiting time and avoid cluttering your waiting room. It will also reduce, if not eliminate, unanticipated entry and crowds. This is the choice made by the CAN'L access provider.
Use a receptionist as an alternative to the self service distributor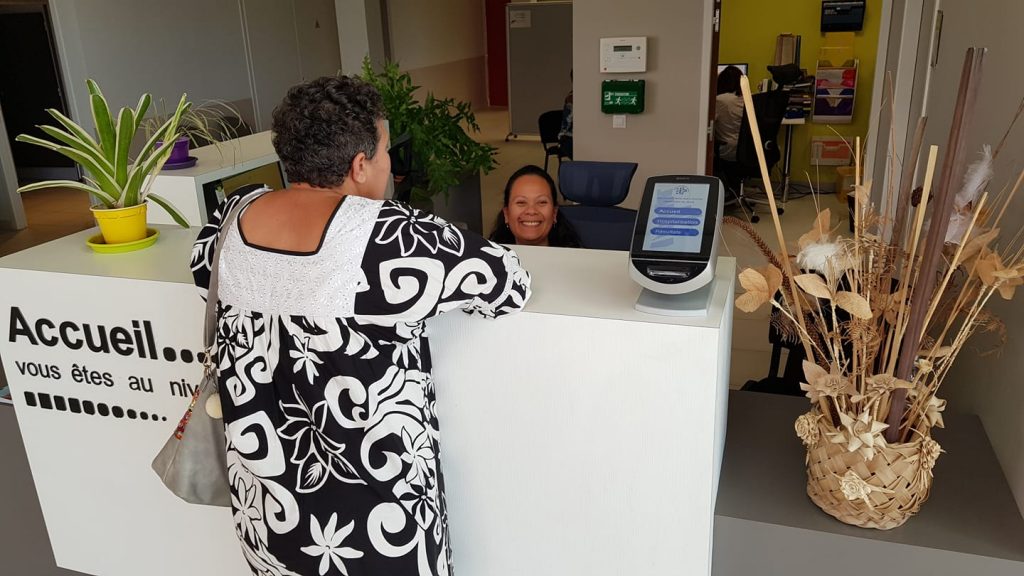 At the entrance, you can assign a member of staff to the function of receptionist dedicated to reception. So the agent prints the ticket without the visitor needing to touch the vending machine. This is how Koné's PSN works.
It is possible to go further by not sending SMS the link which allows the patient to view his virtual ticket on his smartphone and thus wait in another place than a crowded waiting room.
Minimize close interactions / touch points
Where possible, replace physical interactions and touchpoints with digital solutions. Here are some touchpoints that can be easily moved to digital alternatives:
Reservation: Provide an online appointment reservation on your website or open a call center where a designated staff member can make appointments for clients. Make sure you enable all of the options available to do things virtually.
Registration: to facilitate virtual registration, you can issue QR codes that customers can scan to access the virtual queue, either online or remotely from the premises (on the door or window, for example) to minimize close interactions
Waiting: in connection with the previous section, the virtual queue will allow your customers to minimize close interactions by allowing them to wait elsewhere outside your hall or your waiting area. Use customer notifications to keep them informed while waiting elsewhere.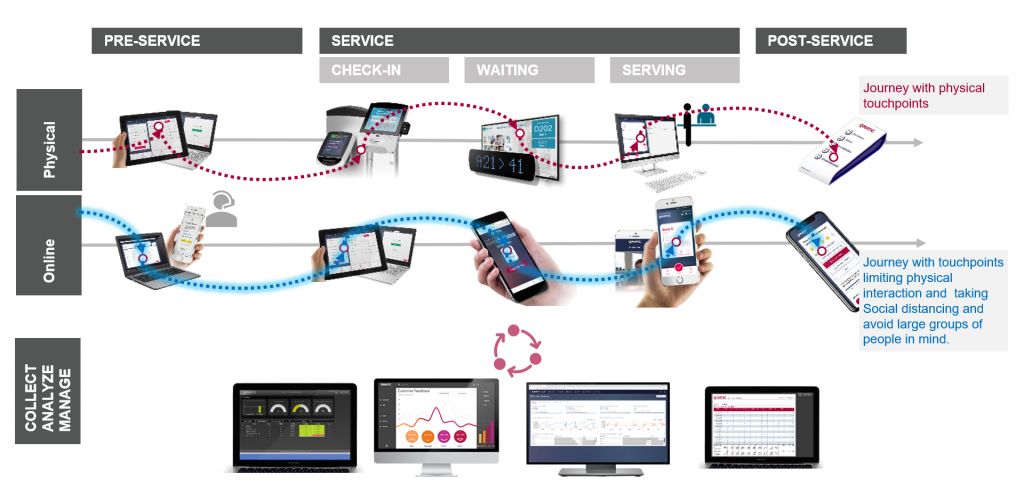 Manage customer flow and staff allocation
One of the advantages of implementing a reservation only policy is the ability to manage customer flow. Since you can decide how many appointment slots you have, this allows you to control the number of site visitors at any time. With this you can also assign your staff according to their availability and customer requests.
Monitoring is crucial when implementing virtual queuing, as it can be difficult to get an idea of ​​the number of people waiting to be served at a glance in the waiting room. But with intelligence tools like an operations panel, this can easily be resolved. The control panel provides data such as the number of waiting customers, open counters and staff availability, all of which are useful for resource allocation.
Provide clear communication for your customers and staff
To ensure a seamless customer experience, it is important that customers receive information before, during and after their visit. Even when they're not on site, use email and / or SMS notifications to keep them up to date with booking confirmations, reminders, expected wait times or any changes. You can also provide information on what to expect on your site (for example, if you check the temperature at the entrance or if your staff wear protective masks).
Likewise, providing information to your staff can reduce stress for them. Communicate events and changes throughout the day so that they are as prepared as possible.
---
"Social distancing" and continuing to provide services in hospitals, government offices or other industries is not impossible. Switching to mobile solutions can significantly reduce the risk of infection in your waiting area, and therefore protect both your customers and your staff from the risk of spreading the infection, while providing services with great customer satisfaction.
If you are interested in learning more about implementing virtual queuing for your organization, contact us and we will help you create secure customer journeys.